Description
Everyday Free Shipping for Orders $45 and Over*
*Shipping excludes PO Boxes and international orders.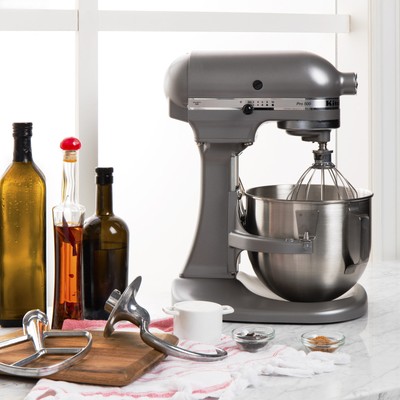 KitchenAid KSM500Q2SL Silver 5-quart Pro 500 Bowl-Lift Stand Mixer
Product Description: The Flour Power Index is a usable calculation that measures mixer power,motor strength, and bowl capacity. The Index measures the maximum amountof all-purpose flour a mixer can effectively mix based on these calculations.This mixer has a Flour Power Index of 9 Cups.POWERFUL MOTORHigh-performance motor delivers the power to mix everyday household recipesincluding large batches of batter and dough.STURDY DIE-CAST METAL CONSTRUCTIONRugged, durable, die-cast metal construction delivers years of reliable service.5-QUART STAINLESS STEEL BOWLAccommodates large batches of dough and batter.67-POINT PLANETARY MIXING ACTIONThe beater spirals to 67 touch-points within the bowl for quick, complete mixing.10-SPEED CONTROLAllows the user to select the right speed for the mixing job, from a slow stir toa very fast whip.ACCESSORIES INCLUDEDBurnished flat beater, burnished dough hook, and wire whip achieve a varietyof culinary tasks.POURING SHIELDClear and durable pouring shield fits on top of the bowl to help preventingredient splatter. The pouring chute allows easy addition of ingredients andvisibility of mixing progress.MULTIPURPOSE ATTACHMENT HUBHub powers a variety of optional attachments to provide unmatched culinaryversatility and convenience.EASY TO CLEANSeamless design cleans easily with a soft, damp cloth. Bowl is dishwashersafe. Burnished flat beater, burnished dough hook and wire whip should behand washed.
Reviews For This Product
love it
out of 5 Stars
I needed this year's ago, beats handheld mixer, allows me to multi task.
Works well
out of 5 Stars
Great asset to the kitchen
Perfect for any baker
out of 5 Stars
I'm very glad I finally bought this stand mixer. The equipment is sturdy and of good quality. It arrived with a dough hook, wire whisk and a beater. It's pretty easy to use, but the small manual with some recipes was very helpful. I would most definitely recommend this to my friends and family.
Early Xmas present
out of 5 Stars
Wife loves it, quick shipping, great price!!!
Love it!!
out of 5 Stars
So happy with this purchase! I love the ease of the lifting bowl.
Try These Other Categories